ANTENNA MODELS BRANDON HOUSE TROON AYRSHIRE KA10 6HX SCOTLAND
LC302 Radio Control Speed Controller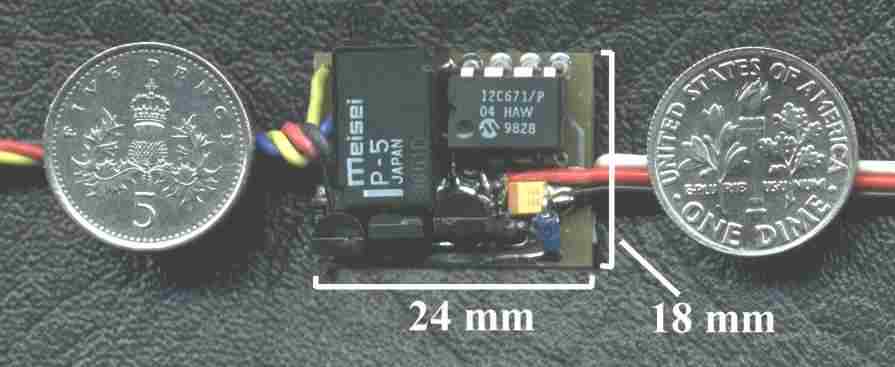 Our new speed controller, the LC302, is even smaller than the LC301, and is just 20 mm by 24 mm by 10 mm. However, it still manages a 3 amp output, and takes a miserly 0.25 volt output drop. Battery voltage can be anything from 4 volts to 18 volts. The LC302 is ideal for smaller models where the LC301 would be a bit of a squeeze. The LC302 has a new speed control algorithm to give even better interference suppression, and is available at the same price of £49.95. The LC301, which has the option of directional lights, a second function output for LEDs or relay, and/or manual control, will remain available, and is 39 mm by 18 mm by 10 mm.
Small size - The LC302 is probably the smallest radio controlled speed controller available. At only 18 mm by 24 mm by 9 mm (wrapped in tape) or 20 mm by 24 mm by 10 mm as supplied in its thick protective sleeve, the LC302 makes radio control for HO or OO possible. The LC301, at 39 mm by 18 mm by 10 mm, in not much bigger
High current capacity - Both the LC302 and the LC301 can supply up to 3 amps as standard, or 5 amps to order, making them suitable for the full range of motors up to Gauge 1.
Low voltage drop - The LC302 and LC301 use a Zetex E-line power transistor with an extremely low voltage drop combined with a relay for reversing. This results in a voltage drop of only a quarter of a drop, well below the value obtainable using a solid state bridge. Some competing controllers have voltage drops of just over a volt - in that case one of your batteries is being carried for the sole purpose of heating up the controller; none of the power reaches the motor
Advanced interference rejection algorithm - The LC302 and LC301 are microprocessor controlled and are programmed to ignore signals from the receiver which are not valid radio control signals. The signal is further filtered to ensure a smooth response for the motor and excellent slow speed running. If the signal is lost - in a tunnel, for example, or when the transmitter is switched off - the controller will hold its speed and continue until it receives a signal again.
Works with cheaper AM equipment - The powerful micro controller and advanced interference rejection algorithm mean that more expensive FM equipment is unnecessary unless you require more than six locomotives in operation at once.
Centre adjustment for different transmitters - The micro controllers used in the LC302 and LC301 incorporate additional circuitry to allow for an adjustment trimmer to tune the controller to the mid point on the transmitter, so that 'off' on the transmitter matches 'off' on the model. This is a one off adjustment which only takes 30 seconds, and the units are supplied pre adjusted for Futaba transmitters. Competing designs which use simpler micro controllers require the mid-point to be set every time the unit operates by switching the transmitter on before the receiver every time.
BEC circuit for receiver - The LC302 and LC301 incorporate a Battery Eliminator Circuit so that BEC and non-BEC receivers can be used without an additional battery pack.
Low cost - All of the above for only £49.95 (carriage inclusive, UK), €79.75 (carriage inclusive, rest of Europe) and $84.95 (carriage inclusive, rest of world).
Order the LC302 online
| | | |
| --- | --- | --- |
| UK customers | European customers | International customers |
---

Antenna Models Brandon House Bentinck Drive Troon Ayrshire KA10 6HX Scotland +44 (0)1292 311 693